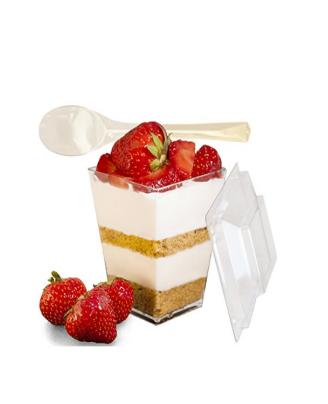 IMPRESS YOUR GUESTS:
Showcase your culinary creations with professional, sleek mini dessert cups.
ECO FRIENDLY :
All BPA Free and Eco Friendly.
These disposal mini dessert cups are also washable, reusable, freezable, disposable, and recyclable.
PREMIUM DESIGN & SIZE:
Each cup is a beautifully modern looking square design with a satisfying serving size of 5 oz.
Just enough to keep guests wanting more.
QUICK & CONVENIENT:
Just fill and serve.
These perfect cups are ready in seconds.
PERFECT FOR ANY OCCASION:
Whether you're serving a chocolate dessert, savory appetizer, or mini cocktails these dessert shot glasses will fit all your needs.
Great for Indoor or Outdoor events like parties, weddings, mitzvahs, family gatherings, and more.